About Us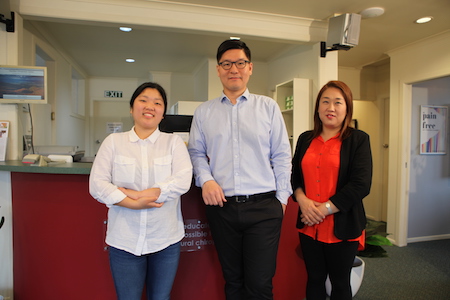 I want to assist you along the journey of your health and wellbeing. Whether you have aches and pains or something that is stopping you from being a better you, I'll work with you to achieve your goals.
Dr Ian Kim
Hamilton Chiropractic Centre has been a part of our community since 1999, providing Hamilton and Waikato District with natural healthcare. Chiropractor Dr Ian Kim relocated to our area after graduating from New Zealand College of Chiropractic, first working out of a home-based practice. Not long after, he took over at Hamilton Chiropractic Centre and rebranded our practice, which used to be called Chiropractor For Life.
Our newly chosen name represents that your care is about you, not us. We're dedicated to helping you reach your health goals, no matter what they may be.
A Convenient Location
We have a beautiful, charming practice located in a brick house that's been remodeled as a contemporary healthcare facility. Plenty of free car parking is available on-site and in the area. There is a wheelchair-friendly entrance to accommodate those with limited mobility. We're halfway between the CBD and The Base shopping centre and are easily reached by bus.
Feel Better, Live Better
If you're in pain, our priority is to help you feel better. Once you're free from discomfort, we'll talk to you about how you can stay well and prevent health problems from occurring. With our personalised care plans, you can be sure that you'll get what you need to recover your health.
If you're ready to get started, check out our new patient special offer! Contact our team today to book your first appointment.
---